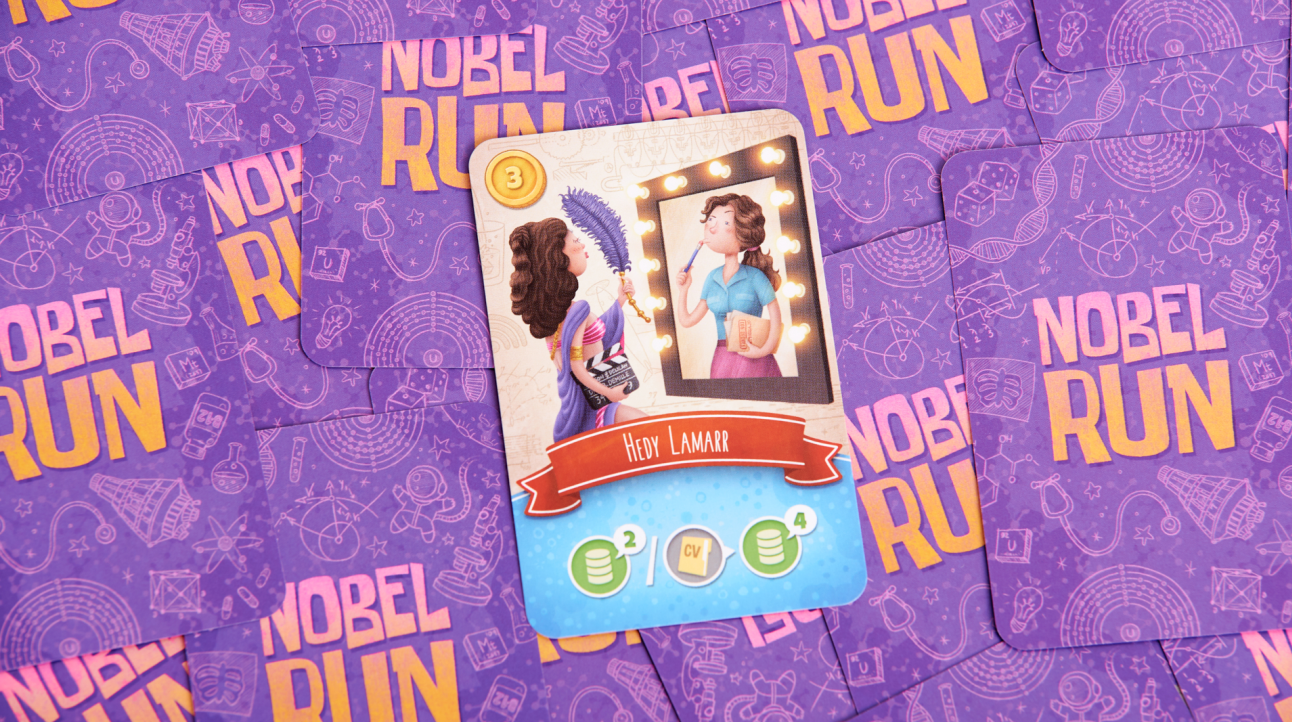 "Any girl can be glamorous. All you have to do is stand still and look stupid."

Hedwig Eva Maria Kiesler
(Vienna, November 9, 1914 – Florida, January 19, 2000)
Hollywood actress and inventor, Hedy Lamarr was a woman who wanted to make her mark on the world, but that world could not see past her beauty. Alongside George Antheil she invented and patented the first version of the frequency-hopping spread spectrum (FHSS) that would enable long-distance wireless communications. When Hedy Lamarr tried to join the National Inventors Council, her director, Charles F. Kettering, told her that she could better serve her country by promoting war bonds, belittling her invention that is now the basis for Wi-Fi and Bluetooth technologies. International Inventors' Day is celebrated in his honour on 9 November.
A movie life
Hedwig Eva Maria Kiesler was born in Vienna in 1914 into an upper-class Jewish family. She was a very bright child and her teachers thought she was gifted. From an early age she became interested in science and acting and began to take piano, dance, performing arts and engineering lessons. But she abandoned engineering to pursue her dream of becoming an actress. At the age of 16 she began her film career.
Her fifth film, Ecstasy (1933), created a public scandal as she become the first woman in the history of cinema to appear nude and having an orgasm on screen. The film was condemned by the Leagues of Decency and Pope Pius XI. It also made Friedrich Mandl, an arms tycoon and friend and ally of the fascists, infatuated with her. He managed to arrange a marriage of convenience with her parents, against Lamarr's wishes, thus starting one of the most painful chapters of her life.
Her husband, a sickly jealous man, tried to collect and destroy all copies of Ecstasy, subjected her to strict control by locking her in the house and only let her undress or bathe in his presence. He also forced her to accompany him to all his social events and business lunches so as not to let her out of his sight. Lamarr took advantage of this situation to resume her engineering studies and gather any information she could muster about the Nazi regime's weapons and technology from dinners organised by her husband, which she was forced to attend.
One day, when her situation became too unbearable, she decided to escape in an almost cinematic manner. There are two versions of the story: one says that she fled through the window of a restaurant and the other says that she gave her maid a sleeping pill and left the house disguised as her. She fled to Paris, then to London and from there to the United States. During the boat trip, she met Louis B. Mayer, founder of the industrial empire Metro-Goldwyn-Mayer, and before she reached port, she had already signed a contract to work in Hollywood. But with a small price to pay: Mayer asked her to change her name so that she would not be associated with Ecstasy. So she renamed herself Hedy Lamarr, in memory of the silent film star Barbara La Marr.
The press called her "the most beautiful woman in the world", she inspired the characters Snow White and Catwoman, and in the 1940s plastic surgery patients frequently requested her profile.
Her inventor side
Lamarr's passion for inventing began at the age of 5, when she disassembled a music box and reassembled it. Throughout her life, however, she was praised for her beauty and underrated for her intelligence. In fact, she received a star on the Hollywood Walk of Fame in 1960, but it was not until 2014, 14 years after her death, that she was inducted into the National Inventors Hall of Fame.
She designed an aeroplane for Howard Hughes that was much faster than those that existed at the time, she invented a pill that could be dissolved in water to give Coca-Cola a flavour, she created a system prior to the surveillance drone… And, of course, the frequency-hopping spread spectrum, that is now the basis for Wi-Fi and Bluetooth technologies.
Lady Bluetooth
In the early years of World War II, the use of submarine-launched missiles was very important. But radio contact between the torpedo and the ship from which it was launched had a weakness: if opposing forces worked out what frequency they were communicating on, they could jam it and divert the projectile's course.
Lamarr and George Antheil, a friend who was a piano composer, solved this problem by creating a system that allowed the torpedo and the ship to communicate by hopping between different radio frequencies, which prevented them from being intercepted by the enemy. She came up with the initial idea and he created the practical model of a device that would allow the radio homing transmitters and torpedo receiving systems to hop frequencies simultaneously, evading rival attacks.
In 1942, they patented the system, giving the US Navy their invention, but unfortunately, they were not taken seriously. The US Navy said the invention was too cumbersome and not a useful military technology. But what they really wanted to convey was that it was unlikely that an actress and a musician had invented a technology that would help them. In fact, they told Lamarr that she could support the war effort more efficiently as a pin-up: pushing war bonds, entertaining troops and selling kisses. This development could have shortened World War II by a year. And she turned down films like Casablanca to develop what is now known as the "frequency-hopping" technique.
Although the patent did not expire until 1959, they never received adequate recognition for this idea, now estimated to be worth $30 billion. It was not until 1997 that they both received the Electronic Frontier Foundation's Pioneer Award. Upon hearing of her award, Lamarr responded, "It's about time."
Her last years
Our protagonist kept inventing until the end of her life: a new traffic light, fluorescent collars for pets… She died at the age of 85 at her home in the United States. Today, International Inventors' Day is celebrated on 9 November, commemorating her birth.
---
Hedy Lamarr is one of the scientists who appears in our board game Nobel Run. More info: Gearing Roles launches the Nobel Run board game to give visibility to women in science.
---
Text by Lorena Fernández (@loretahur).
Illustrations by Iñigo Maestro (@iMaestroArt).